Getting Around Furniture and Freight Delays – 3 Tips!
Furniture and freight delays continue to be a challenge and are projected to continue for the foreseeable future, even into 2023. Raw good shortages (foam, lumber), coupled with the transportation of materials, components, and finished pieces of furniture have made for a frustrating experience for everyone involved in both new home construction and remodeling.
Fortunately, there are three viable ways to bypass these tiring issues!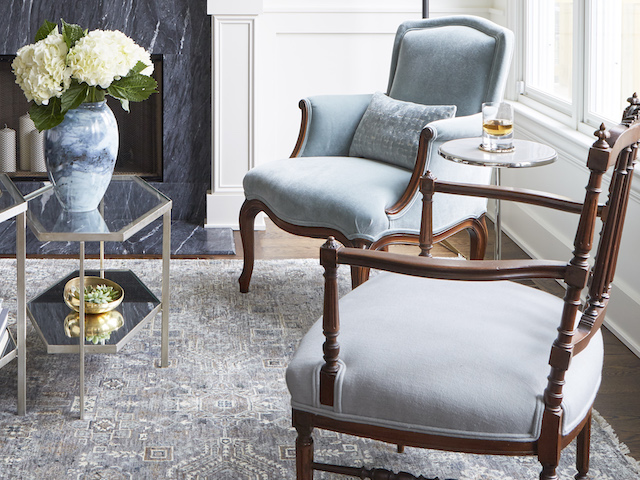 Two mismatched chairs, from different parts of the home, became fast friends front and center once they were treated with a mohair and linen makeover.
Shop your home.
Or your mom's. Or visit your aunt who hasn't thrown anything out since the 1970s. In one of these homes, you are bound to find a unique piece of furniture that can be repurposed into something fabulous. A designer can reimagine that storage piece as a vanity or find the right fabric to reupholster and will coordinate with a great workroom to get it done. This is one of my favorite ways to create a layered home for clients.
A bold print on a custom headboard makes everything feel a bit more bespoke and luxurious.
Have a piece custom designed.
Do designers like shopping for beautiful furniture? Yes! But we also really love designing things – a headboard, a sofa, a built-in, anything really. And we have all the resources to get it done in a timely manner. It might sound expensive but ask. It's often more affordable than you would think. Which would you rather have: a custom designed headboard that was made locally in a couple of months or one that you ordered eight months ago from a retail shop, and no one can tell you when it might get delivered?
A search using the words "pair", "asian", "ottoman", "stool", coupled with the "local pickup" option yielded these beauties on 1stdibs.  All we had to do was reupholster the cushions.
Shop online but focus on locally sourced items.
Yes, you can unearth amazing pieces scouring estate sales, but there are several high-end resale online sites, and no one needs to die for you to gain access. 1stDibs is king for luxury high-end furnishings and decor. Perfect for design enthusiasts and collectors. All pieces are vetted and include the top dealers from around the globe. Chairish is great for vintage (generally pieces 30-100 years old), but also has antique, one of a kind, and pre-owned pieces. Sellers include dealers, individuals, and interior designers. Sotheby's Home, Everything but the House, and the vintage section of One King's Lane are a few additional online sources that focus on higher end furnishings. This tip isn't a secret anymore though, so it might take a little time. While tempting to do this sourcing yourself, a designer thinks about how each piece interacts with everything else. Materiality, scale, and style are viewed in relation to each other to create an ideal space.