A Few of My Favorite Things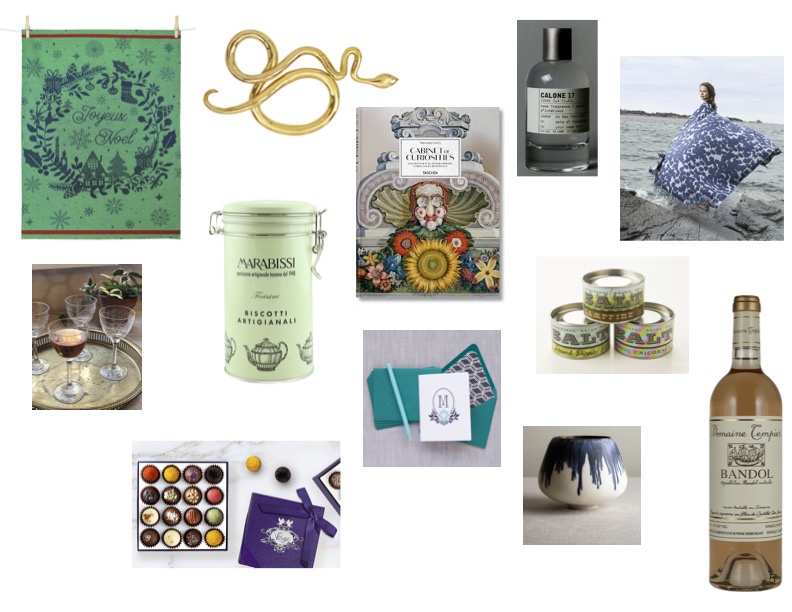 I have a lot of favorite things, honestly, but here are twelve, and if you're still shopping for the holidays, maybe this list can provide a little inspiration:
1.) Beautiful Briny Sea Salts. I discovered these at a Renegade Craft Fair and they have filled our spice carousel ever since. My favorites are Campfire, on popcorn, on roasted chickpeas; Magic unicorn, on eggs, on chicken; and French Picnic on literally every vegetable cooked every which way. $25 for a set of three.
2.) Matouk's Cadiz Throw. A cashmere throw, made in Scotland, but it isn't plaid! This lovely abstract floral comes in three colors, but of course the sapphire blue is my favorite. $1850.
3.) Vintage Glassware. These are fabulous Nick & Nora cocktail glasses, but I also love coupes and cordials.
4.) Bandol Tempier Rosé. This is, hands down, my favorite wine, introduced to me by one of my favorite clients. It's bright and fresh and doesn't contain those pesty tannins. $55.
5) Tea Towels. I love to pick up tea towels when traveling because they don't take up space in my carry-on and can't break. Moutet, in the Basque region of France, makes beautiful ones and you can find them at P.O.S.H. in Chicago for $26.
6) Home Fragrance. When you have children or pets, lighting candles doesn't always seem like a good idea. Le Labo Fragrances makes all their popular scents in a home spray version. While I'm partial to Santal 26 in the winter, Calone 17 recalls the ocean, crisp, breezy and the anticipation of warmer days. $125.
7) Personalized Stationery. I've used the same letterpress stationery for the past twenty years. I love the weight of a thick card and the slight imperfections that sometimes occur with letterpress. Union Street Papery in San Francisco has the best selection of original designs.
8) A Beautiful Coffee Table Book. Every year there are a handful that are just gorgeous, but I'm still drooling over this one. An eye candy piece featuring a journey through time in Europe and its history in both the scientific and artistic realms. Cabinet of Curiosities is for anyone who collects, loves museums, loves history, or just loves beautiful things. From Taschen $150.
9) Marabissi Biscotti. Yes, the biscotti is good, but I love the colors on these tins – pistachio, buttery yellow, blush pink. $18 at Eataly.
10) Decorative Brass Object. I love living finishes – that is, things that age over time, like copper, bronze, or brass. This unlacquered serpent with its natural imperfections would be stunning on a buffet surrounded by bowls of nuts, glasses of cheese straws, and tiny bud vases. From Jayson Home & Garden $198.
11) Handmade Pottery. Lisa Fleming's small decorative pieces with gorgeous glazes incorporating manganese impart a wabi-sabi aesthetic. The inky blue moving toward a night sky on white is my favorite combination.
12) Vosges Haut-Chocolat. A Chicago darling and for good reason – creative, mindful, and delicious. I've always been delighted with the exotic collection, and every winter I treat our house to the Aztec Drinking Chocolate.
However you celebrate the holidays, I wish you and yours a very merry!